Water Heater Repair & Installation
We Will Replace or Repair Your Water Heater in Chula Vista, National City, or San Diego
Get in Touch With Our Team!
Hot water heaters play an absolutely crucial role in the functioning of any household. Thanks to your water heater, you are able to properly sanitize and clean dishes, take showers, and wash your clothes. When it is not working properly, it can make it difficult or even impossible to do these things. Worse yet, an improperly functioning water heater can cost you money on your energy bill! Contact Above and Beyond Drains & Plumbing today to get your hot water heater repaired or replaced.
Call (619) 330-7577 to get help today!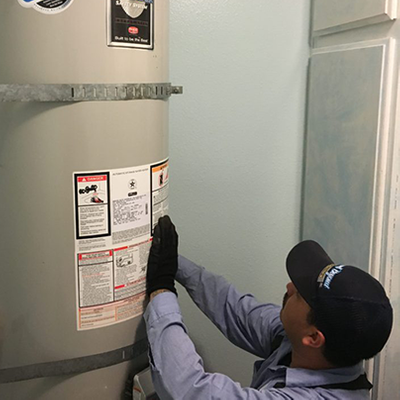 Perks of working with Above and Beyond:
Our technicians are certified and insured.
Above and Beyond is led by a plumber with more than 25 years of experience.
Above and Beyond is available 24/7.
We are family owned and operated.
Our team is trusted by our customers Chula Vista, National City, and San Diego.
We Repair or Replace Your Hot Water Heater Right -  the First Time
Your hot water heater is an extremely important part of your home's plumbing system. It allows you to clean and sanitize your dishes, clothing, and yourself. It is always there, running in the background, and making modern life convenient and easy. It is something that is often taken for granted. That is until it needs repair.
There are a few types of repairs that are common for hot water heaters, including:
Earthquake strap installation
New water heater stand installation
Repair or replacement of expansion tank
Repair of thermal coupling
Replacement of burner assembly
Copper hot water supply line repair or replacement
Replacement of shut off valve
Replacement or repair of temperature relief valve
Replacement of settlement trap and smitty pan
Installation of gas flex line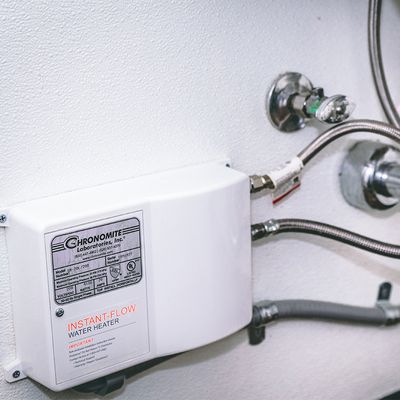 Water Heater Replacement
If it is necessary to replace your old hot water heater, our plumbers in Chula Vista can suggest options. It is now law in California that emission standards must be met by new hot water heaters. The new hot water heaters on the market today must be low nitrogen oxide-emitting units. Our technicians are aware of the emission standards and can help you choose a tank that works best for your family.
CALL US FIRST FOR YOUR HOT WATER HEATER SERVICES
When you are in need of a hot water heater repair or replacement, Above and Beyond Drains & Plumbing will get the job done quickly and efficiently so your family can get back on their feet again. Our fully licensed and insured professionals will treat your home as if it were our own. We love what we do, and we take pride in our work. It shows in our quality workmanship and superior customer service.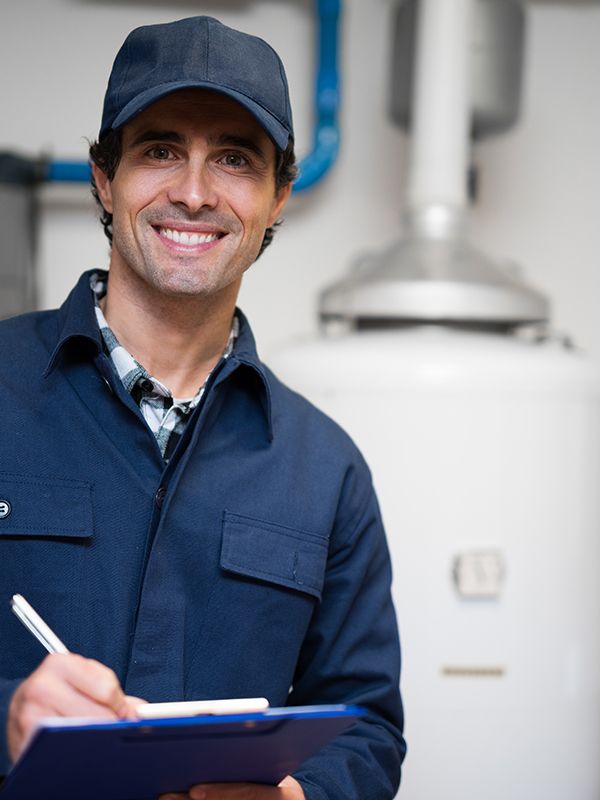 Choosing the Right Water Heater
As a homeowner, you often need to make decisions regarding appliances you may not know much about. For example, it might come time to replace your water heater, and you will need to pick the right option for your household. How do you do it? There are several things to consider when you choose a new water heater for your home.
First and foremost, you will want to know what types of water heaters are available to you. Conventional storage water heaters and tankless water heaters are the most popular options in the San Diego area, but solar water heaters also see some use thanks to the sunny weather of Southern California.
To determine which type of water heater is best suited for your needs, ask yourself what type of fuel you want your system to use, how much hot water you will need, and your budget for buying a new water heater. Remember that water heaters typically last about eight to ten years and that California has specific regulations regarding water heater emissions.
At Above and Beyond, our team of experts is experienced with helping people choose the right water heater for their needs. Contact us if you need assistance choosing the water heater for you or even if you need to decide whether it is time to replace your water heater.
Getting the Most Out of Your Water Heater
As a homeowner, you probably want to make your water heater last as long as possible and keep it from running up the cost of your energy bill. There are several ways to accomplish these goals while also ensuring that your water heater meets your needs.
The first step toward accomplishing these goals involves following the advice above and choosing the right water heater for your needs. Our technicians can help you select an efficient water heater that is built to last.
Once you have the right water heater, you will want to take some time to determine what temperature is best suited for your needs. In many cases, water heaters come with a default temperature setting of 140 degrees Fahrenheit. That said, temperature settings can range from 115 degrees to 160 degrees, which largely depends on the water heater you buy.
If energy efficiency and burn prevention is your main concern, then you will want to set your water heater temperature to 120 degrees Fahrenheit or less. On the other hand, temperatures closer to 140 degrees Fahrenheit could be more suited to your needs if your household uses a lot of hot water or you are primarily concerned with killing germs and bacteria.
To keep your water heater running as long as possible, you will want to familiarize yourself with common repairs and services the unit you purchase may require. Some hot water units require flushing at times, which is not an easy task to do on your own. Call a qualified technician if your unit needs flushing or another common repair, and pay attention to the signs that your water heater needs a service.
If you are mostly concerned with saving money on utility bills, then you should consider taking advantage of some simple household upgrades. Efficient shower heads can keep your water heater from using too much fuel, and water heater insulation can improve the efficiency of certain units. Remember to repair leaky faucets and turn off faucets when they are not needed, since that type of waste adds up over time and can cost you significant amounts in the long run.
Signs Your Water Heater Needs Repairs
By paying a little bit of attention to how your water heater is operating, you can get repairs before they cause bigger issues. One of the most common signs that your water heater isn't working properly is irregular water temperature. If the temperature of your water fluctuates in the shower or while you are doing dishes, then it might be time to contact Above and Beyond.
Similarly, running out of hot water quickly is an indication that your unit is struggling to work at capacity. Other signs include water discoloration, puddles by your tank, or unusual noises coming from your system. All of these are good reasons to call a technician and see whether your system is in need of repairs.
Don't Wait Until It's Too Late!
Think your home needs an inspection? Don't wait until you've ruined all of your pipes or burst your system! Be proactive and we'll find the problem early!